Sam & Max: The Devil's Playhouse, Episode 1: "The Penal Zone" Review (Mac)
Sam & Max has long been a name respected and admired for breaking away from the standard hi-res graphics, low involvement style that has become the normal archetype for the majority of modern games. Instead, the Sam & Max franchise rejected that form and brought comedy and innovation, along with intellectual stimulation, and all with a simple visual style that maintains a perfect balance of being surreal, without being over-the-top. The first episode of the third season lives up to that reputation with the style and flair that we have come to appreciate.
The first episode supplies both old fans and new players alike with a tutorial for the newly redesigned control scheme, and the new powers that Max has come to posses. The controls used to be point-and-click, a control scheme that worked well for both the PC and the Mac. But this episode came out on the PlayStation3 along with computers, and needed a new control scheme to account for the keyboardless players. The new controls emphasize heavily on point-of-view and add a whole new perspective to the traditional point-and-click genera.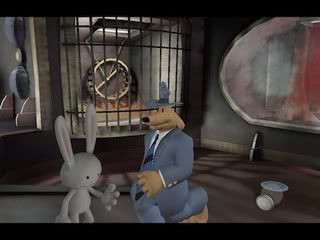 The new power system and 3-D emphasis were decidedly welcome advances, but without having played previous games, players would have no idea about these changes and would simply feel like playing a new game. That is the first of only two major flaws with this game; it lacks a lush back-story or explanation as to how Sam & Max got into the situation you find them in. This leaves new players feeling slightly neglected, as if the series is only catering to veterans of the franchise.
The second major flaw is that this episode is a tad short. This is completely forgivable considering that not only is this just a slice of a whole package but the purpose of this episode was to serve as a tutorial. Even considering that however, the time from start to finish seems to end just as players get into the swing of things.

This was a very enjoyable game, regardless of its problems. It was concise, attractive, and simple like any good intro should be. But even more than that, it was innovative, fun, and whetted the appetite of players for more, like all great intros aspire to do. If you haven't played this episode of the current season of Sam & Max, you should. And if you haven't gotten into the series at all, go do so now. You won't regret it.
All things considered, I bestow this episode of Sam & Max an 8.5 out of 10.